The Lion of Zion Prize 2023/5784
Congratulations to Yishai Fleisher. חזק ואמץ
On the 5th Yahrzeit of Ari Fuld z"l, The Ari Fuld Project will be honoring Ari's memory and continuing his projects and legacy.
The Lion of Zion Prize is given annually to a worthy Zionist activist who exemplifies the values and ideals that Ari lived and promoted: Love for the Torah, combined with Building and Defending the Land and People of Israel.
Watch The Lion of Zion Prize videos for 2023/5784:
The Prize Recipient: Yishai Fleisher:
Thursday, September 21, 2023, in Gush Etzion
Doors Open: 5:30 PM Israel Time (10:30AM NY Time)
Ceremony Begins: 6:00 PM Israel Time (11:00 AM NY Time)
In the presence of Ari's family, friends, IDF reserve unit, and IDF soldiers.
הפרויקט של ארי פולד ז"ל גאה להכריז על הזוכים שלנו
בפרס "גיבור כארי" על שם ארי פולד ז"ל 2023 / תשפ"ד
The Ari Fuld "Lion of Zion" Prize 2023 / 5784
ניתן לצפות כאן בשידור החי ביום הטקס
ו-ז תשרי תשפ"ד, 21 בספטמבר 2023
התכנסות של גדוד הצנחנים של ארי - בטקס פרטי
פתיחת דלתות ושידור ישיר: 17:30 שעון ישראל
6:00PM הטקס בנוכחות מרים פולד
והענקת פרס " גיבור כארי" תשפ"ד / 2023
The 2022/5783 Lion of Zion Prize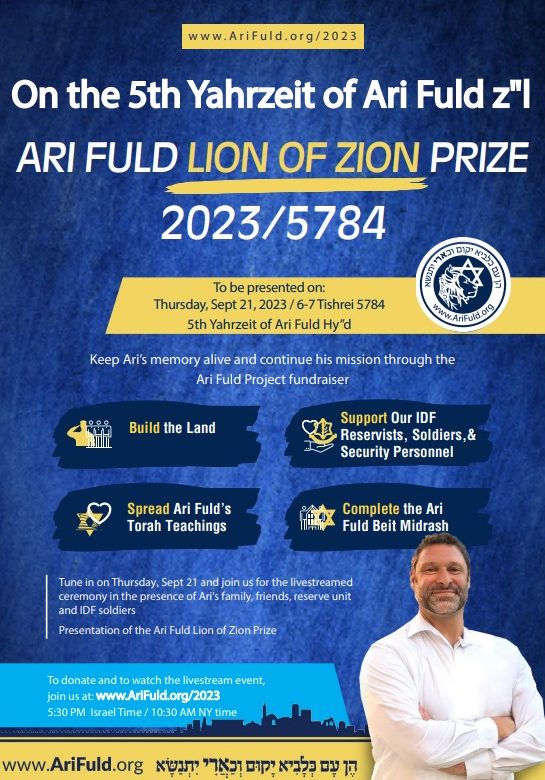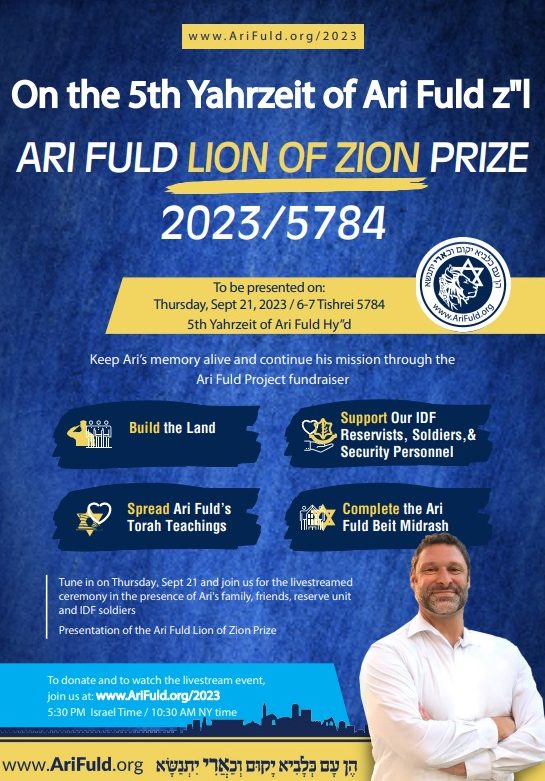 Please consider supporting the works of The Ari Fuld Project:
The Lion of Zion Prize 2023/5784 Event Video: