Ari Fuld's First
Memorial and Dedication Ceremony
Sunday, Oct. 6, 2019
Ari Fuld's Dream
Stream-a-thon
Thursday, Sept. 26, 2019
The Torah Warrior Project
In cooperation with IYIM (International Young Israel Movement), The Ari Fuld Project is donating three Sifrei Torah to the IDF - the Army, the Navy, and the Air Force, this coming October 2019, in Ari's memory. 
An annual education day about Ari Fuld and his life's work.
This project will create and distribute educational materials and other learning resources for teaching students on Yom Ari. 
Note to Educators: Contact us if you would like your school, yeshiva or seminary to participate.
Ari produced thousands of videos about Israel on Social Media. These videos will be downloaded, archived, tagged and stored in an online, searchable database.
This project will allow anyone in the world to search for a subject, location or interview from Ari's many videos. 
Every week Ari published a new video on the Parsha. These videos will be transcribed and turned into weekly Parsha pamphlets, and eventually a book.
This project, our most important one, will spread Ari's Torah teachings beyond its original internet audience, making them more accessible to the general public. 
Sep
24
Thu
2020
Beit Knesset Zayit Raanan Yahrzeit Zoom Memorial Shiur

@ Beit Knesset Zayit Raanan Yahrzeit Shiurim
Sep 24 @ 8:15 pm – 10:00 pm
Memorial Shiur on the Second Yahrzeit of Ari Fuld HY"D Thursday evening, Sept 24, 2020. (Israel Time) Online Zoom Shiur in Ari's memory by Beit Knesset Zayit Raanan of Efrat. 8:15 pm: Rabbi Yair Beinstock 8:35 pm: Rabbi David Stav 9:00 pm: Rabbi Shlomo Riskin 9:20 pm: Rabbi Chagai London
https://us02web.zoom.us/j/87248258071?pwd=V2N2YWVLck40VDkwbkhKZXE4bjRIQT09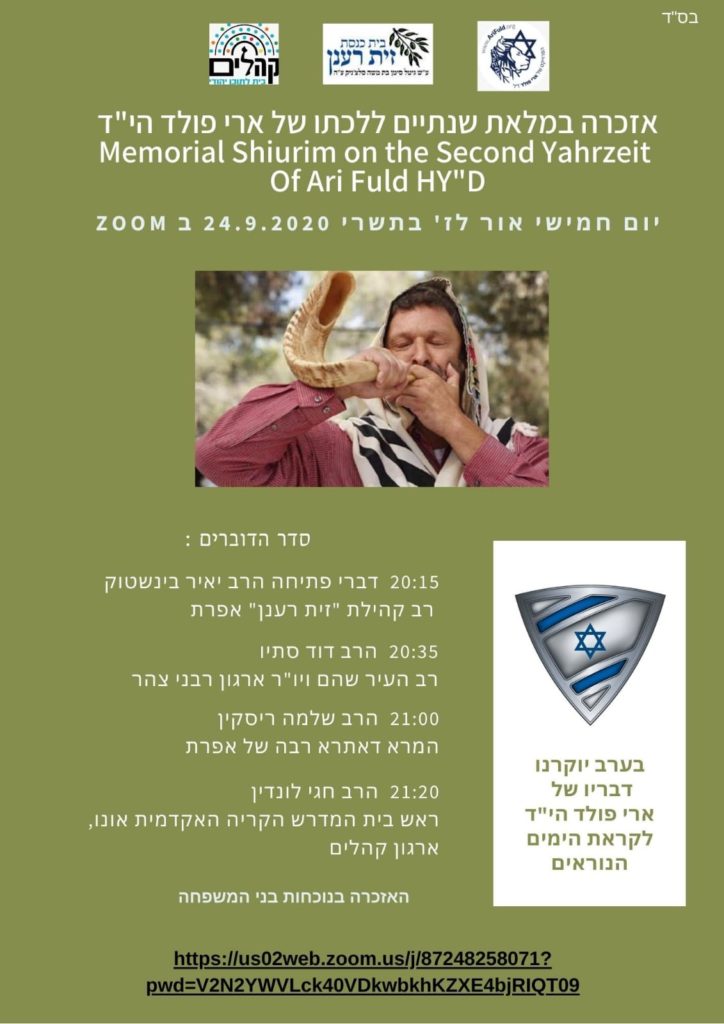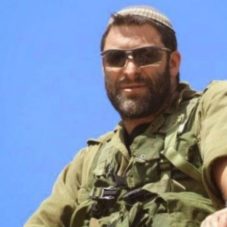 About The Ari Fuld Project
During the Second Lebanon War, Ari Fuld, who served in an elite IDF reserves paratrooper unit was miraculously saved from death - only because he ran into the field of fire to rescue his fellow wounded soldiers and brought them to safety. 
After that life-changing moment, Ari completely rededicated his life to defending Israel and the Jewish people, helping IDF soldiers, and teaching others about the beauty and depths of Judaism...
Sign up for updates on the status of Ari's projects and learn how you can join use and make them a reality.